2023 FALL SEMESTER PROGRAMME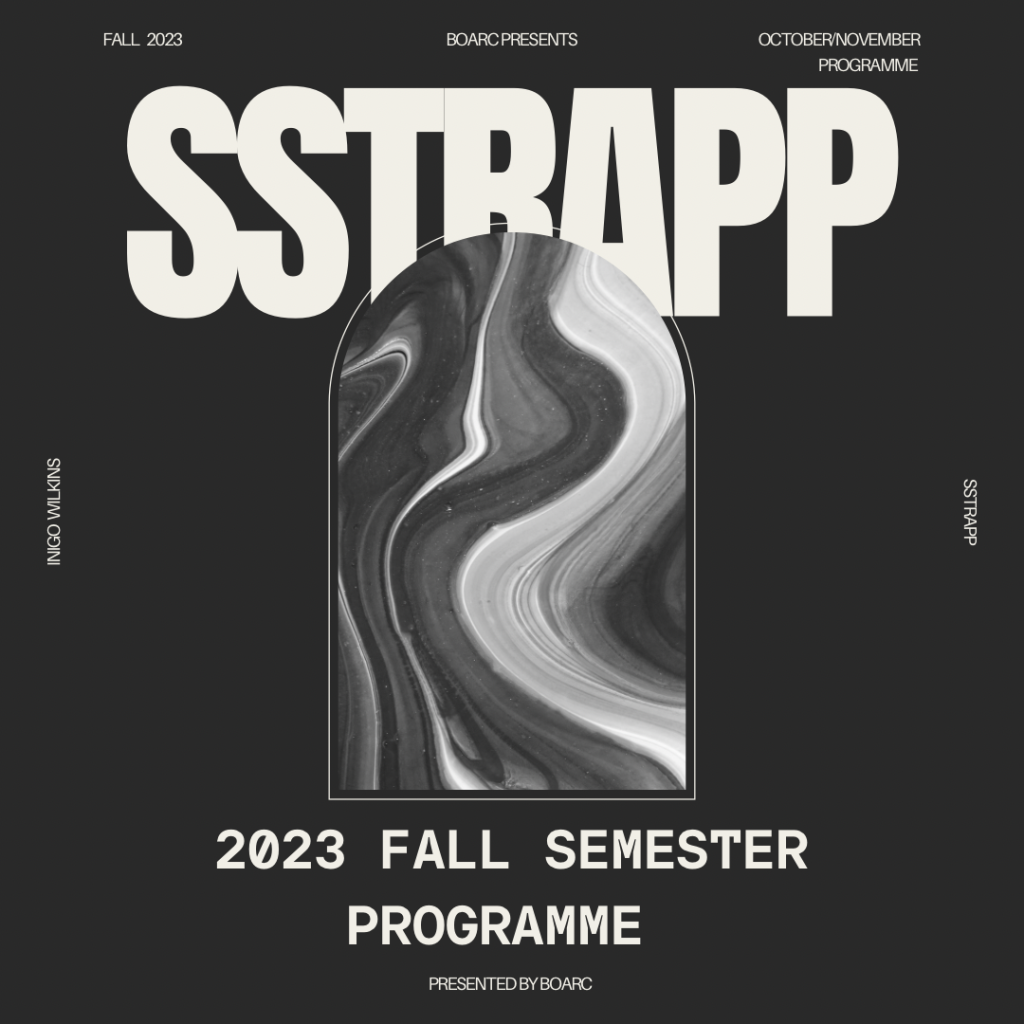 2023 FALL SEMESTER PROGRAMME
Programmed by Inigo Wilkins.
Inigo Wilkins is a philosopher working across many disciplines. His forthcoming book is called Irreversible Noise (Urbanomic). He is co-director of the online journal Glass Bead, and member of the Noise Research Union.
Each program will consist of a week-long workshop with a different conceptual focus.
After a short presentation of some theory, there will be a discussion and a structured process of collaborative thinking, working with diagrams. The afternoons are devoted to practical projects involving or inspired by the respective focus of each programme.
OCTOBER 2023 –
SYNTHETIC DISRUPTIONS
SYNTHETIC DISRUPTIONS (OCT 23-29)
Focusing on synthesis and synthesizers, the practical sessions during this week will address the basics of sound synthesis and DIY synth-building, led by two sound artists who have knowledge of synth-making.
The theory sessions will discuss a wide range of topics, including the physics of sound and the history of sound analysis and synthesis; cymatics and Lissajous figures; the representation and technical mediation of sound and the auditory processing of sound; ecological psychology, deep listening and phantastic sound; the spectrality of the auditory percept, sonic phenomenology and neurophenomenology, and the synthetic philosophy of perception and mathematics.
Throughout the week, you will develop your own synth projects in small groups to learn the basics of sound synthesis and synth-making, with the last day being devoted to presentations and performances that have been constructed throughout the week.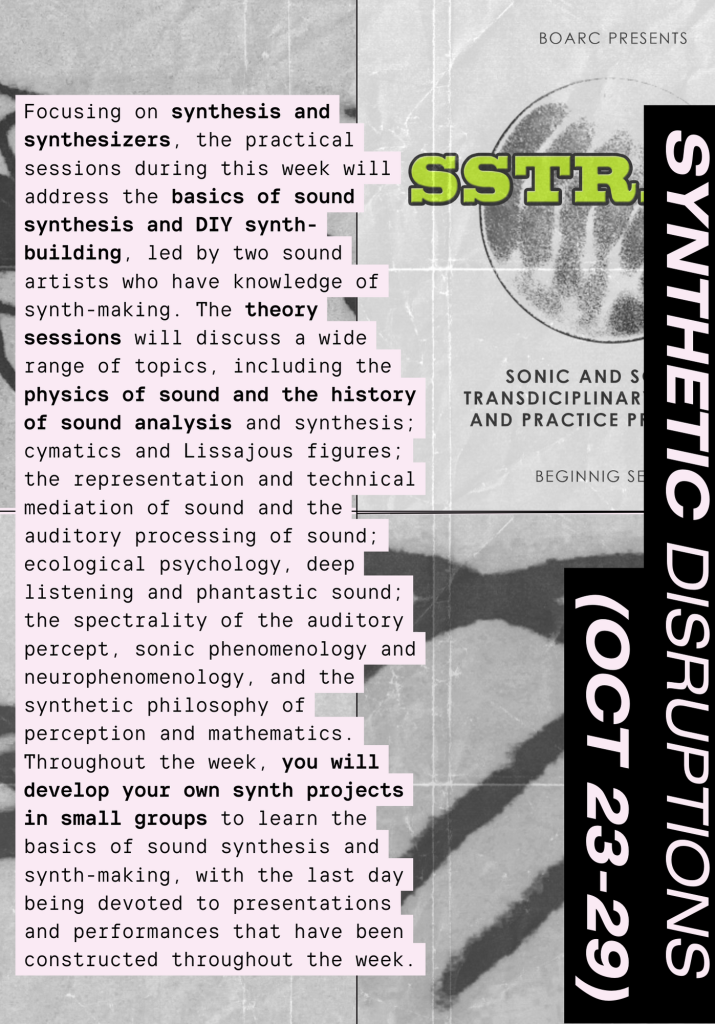 NOVEMBER 2023 –
SOUND CAPTURE AND FUGITIVE NOISE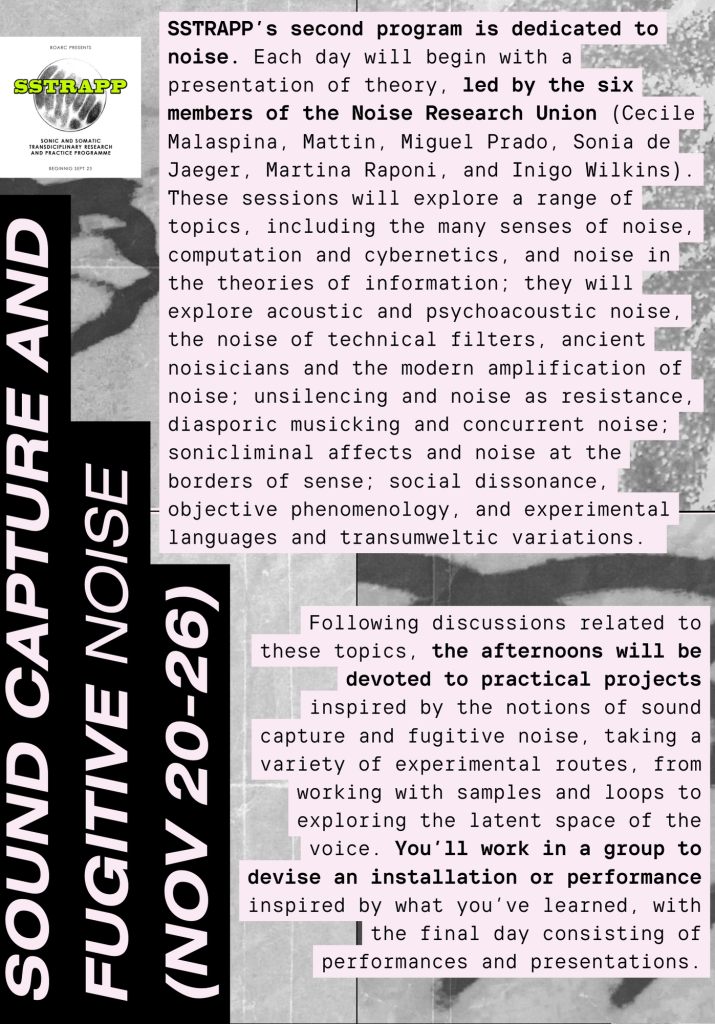 SOUND CAPTURE AND FUGITIVE NOISE (20-26 NOV)
SSTRAPP's second program is dedicated to noise. Each day will begin with a presentation of theory, led by the six members of the Noise Research Union (Cecile Malaspina, Mattin, Miguel Prado, Sonia de Jaeger, Martina Raponi, and Inigo Wilkins). These sessions will explore a range of topics, including the many senses of noise, computation and cybernetics, and noise in the theories of information; they will explore acoustic and psychoacoustic noise, the noise of technical filters, ancient noisicians and the modern amplification of noise; unsilencing and noise as resistance, diasporic musicking and concurrent noise; sonicliminal affects and noise at the borders of sense; social dissonance, objective phenomenology, and experimental languages and transumweltic variations. Following discussions related to these topics, the afternoons will be devoted to practical projects inspired by the notions of sound capture and fugitive noise, taking a variety of experimental routes, from working with samples and loops to exploring the latent space of the voice. You'll work in a group to devise an installation or performance inspired by what you've learned, with the final day consisting of performances and presentations.